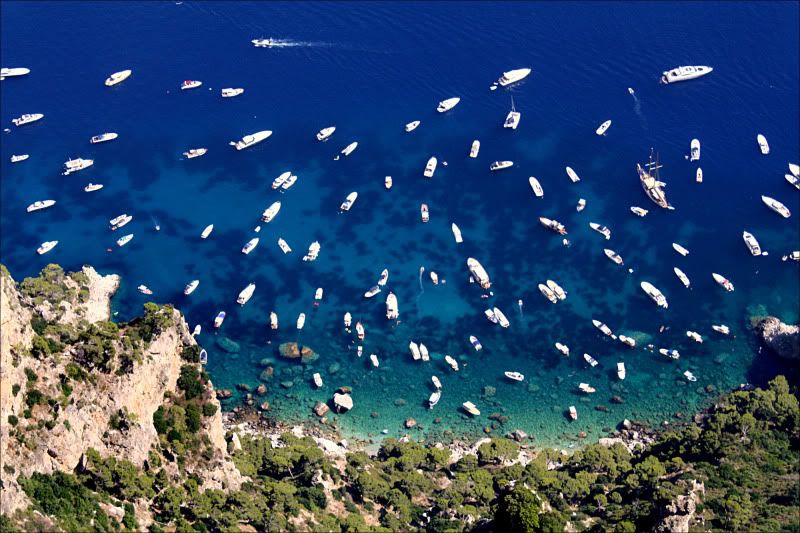 Napoli, Pompeii, Sorrento, Capri, and Positano.  This was one of the most beautiful weekends of my life.  I would see something and think, "Wow, this is the most incredible thing I've ever seen", and then see something else the next day and think the same, and then the next day…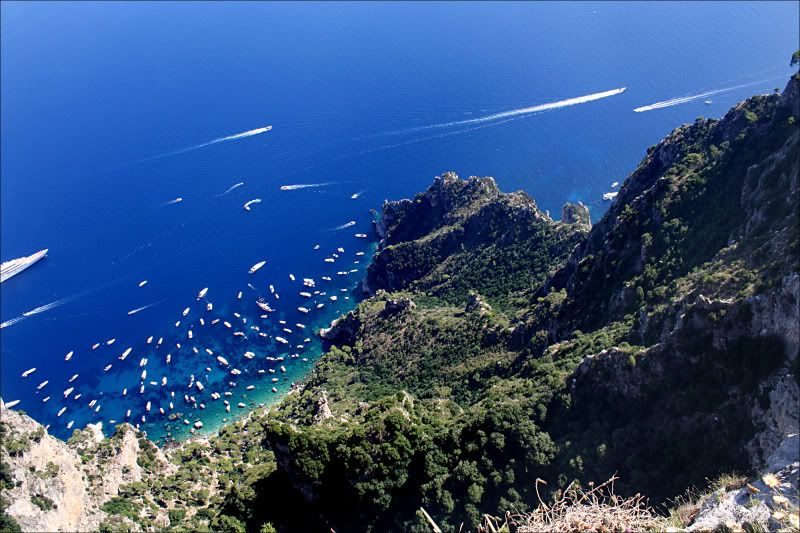 Napoli is, as Rick Steves says, "the best and worst of Italy."  It is a colorful city, in more ways than one.  Napoli is pink and green and blue buildings, palm trees, rich and poor.  It's also filthy.  And I had not seen true Italian driving until I came here.  In Florence, cars and pedestrians are side by side in the streets, as Vespas zoom by.  In Napoli, there are, and I quote a native, "mostly no rules."  This was made very apparent on our way to our second hostel.  Our first hostel lost our reservation, so the guy behind the desk drove us to another one they had contacted for us (in retrospect, a potentially sketch situation).  The guy was really nice though and apologetic for the inconvenience.
Jess and I had some great pizza for dinner (Napoli is, after all, the birthplace of modern-day pizza) and then walked around the city afterwards.  The next day we went to the Museo Archeologico Nazionale di Napoli, which was excellent.
We took a train to Pompeii.  Jess, getting her masters in Italian history and having once aspired to be an archaeologist, was the perfect person to tour Pompeii with.  We spent hours there.  It's amazing that so much of the city is still intact, not to mention the frescoes.
After spending the day in Pompeii, we headed over to Sorrento.  Our hotel had free towels AND air-conditioning!  We were living in the lap of luxury.
First thing we did when we got in (after turning the air-conditioning on) was go on a run around town.  We had a great run, and it was a wonderful way to get ourselves situated with the town before going out.  Sorrento has small and quiet streets, with crowds mostly in the piazzas and on the main drag.  There are plenty of places to perch and watch the sea from high above, and lots of flowers spilling over walls along the tiny stone streets.  We had dinner at Trattoria da Emilia, right on the water.  The mussels with lemon appetizer was delicious; I thought I didn't like mussels, but apparently I hadn't had them fresh before…!
Jess and I had hours of conversation that would have made an eavesdropper assume we were smoking something.  Fresh off the archaeology museum and Pompeii, we pondered what future generations will gather from the artifacts left by our generation.  All of our information is stored on electronic devices that won't be able to be turned on in thousands of years.  Perhaps future humans will be so advanced that they can figure out how to?  And what will our generation be known for?  The iPhone?  Lady Gaga?  Fake tans, boob jobs, and plastic surgery?  Also, what will humans do with our growing technological power?  Will they use it for good or bad?  Genetic engineering?  With advanced technology being such a recent phenomenon, we are only just starting to feel the effects of, for example, cars: we realize the issues of limited resources and pollution.  People are scared about what radiation from cell phones is doing to our brains.  We don't know what technology is doing to us, yet.  And will the discovery of its negative effects really make us any more careful about how we use it in the future? …Food for thought.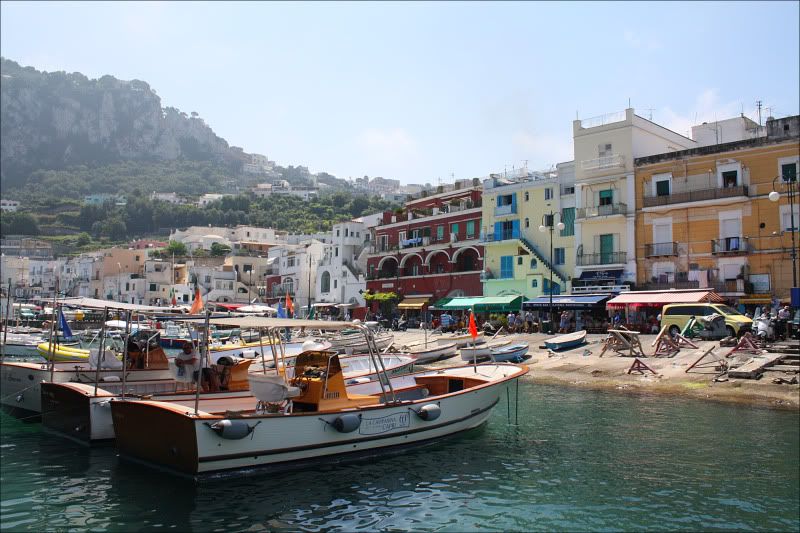 The next day we took a fast ferry to Capri.  Capri is absolutely gorgeous.  The water is an incredible array of blues, and with the boats parked in the dock of a town full of beautiful, slightly worn buildings… Let's say it made me whip out my camera faster than anything so far on this trip.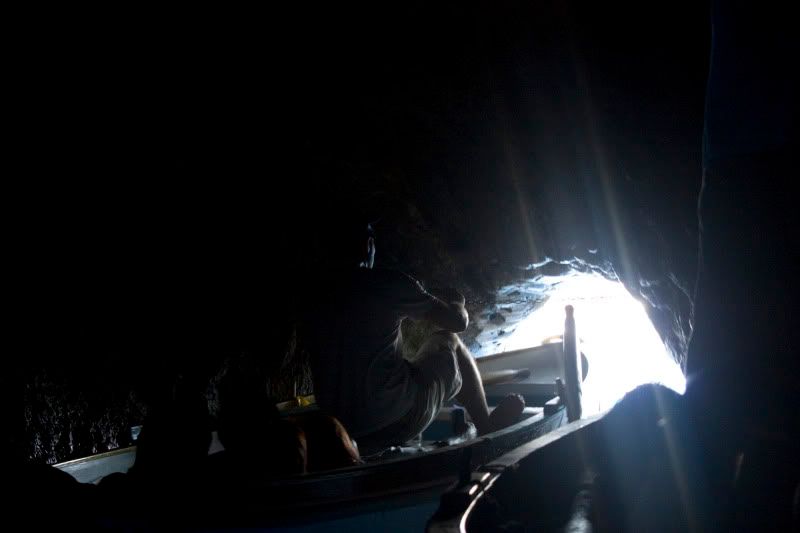 We first ventured to the Blue Grotto.  The ride there was heavenly, with stone cliffs disappearing into the clouds on your left, and the wide, sparkling sea on your right.  Unfortunately, we chose to visit the grotto when everyone else did, so after an hour of riding about, we finally got our turn.  Jess, another tourist, and I climbed into a tiny rowboat with the boatman and fought our way into the grotto's entrance, a hole that can barely fit our tiny rowboat, and can only do so with all of us, including our boatman, laying down.  He grabs a chain and pulls us into a small cavern, filled with other boats like ours.  The water is just as I had heard, a glowing light blue, somehow created by reflections from the sun inside the cave.  Another boatman was singing "O Sole Mio."
After a few minutes, we fought for our way out and headed to Anacapri by tram and bus for a ride on a chairlift.  It's a funny concept, just sitting in a chair (with nothing but a small bar across the armrests to keep you from falling out), as you slowly float over hills and people's gardens 1900 feet up to the top of the island.  From the top are some of the most beautiful vistas I have ever seen.
Back down from the chairlift, we were wandering a gorgeous, quiet street (white-washed buildings with bursts of color from the flowers), when we ran into Josh Hartnett!  He was eating lunch with a group of friends on the patio of a tiny restaurant on this tiny street we were walking down!  Later we heard some other girls say they saw Denzel Washington in Capri and Positano. :o
After spending an hour on the beach, we took another incredible ferry ride to Positano.  That's when I said, for the fifth time, "This is the most beautiful place I have ever seen!"  Simply pulling up to the town is incredible.  It's a semi-circle of looming, colorful buildings stacked up on cliffs whose tops are disappearing into the clouds.  Truly incredible, I can't even describe, and pictures certainly don't do it justice.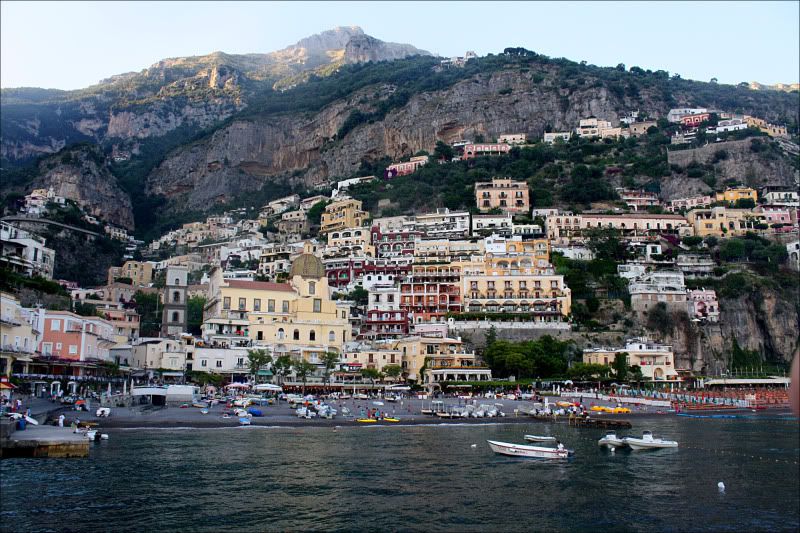 After finding our way to our hostel, higher up in the cliffs, we went to dinner at Ristorante Bruno.  We ate on a quiet terrace with another incredible (I'm running out of effective adjectives) view of the dock we pulled into way down below.  The moonlight was fucking reflecting off the water - it was surreal!!  Jess and I had a romantic dinner by candlelight haha.  The pasta was fresh and homemade.
The next day we spent on the beach.  The beaches here have rocks instead of sand, and the water is salty but perfectly cool.  Definitely saw a little old woman tanning topless and lots of guys in speedos.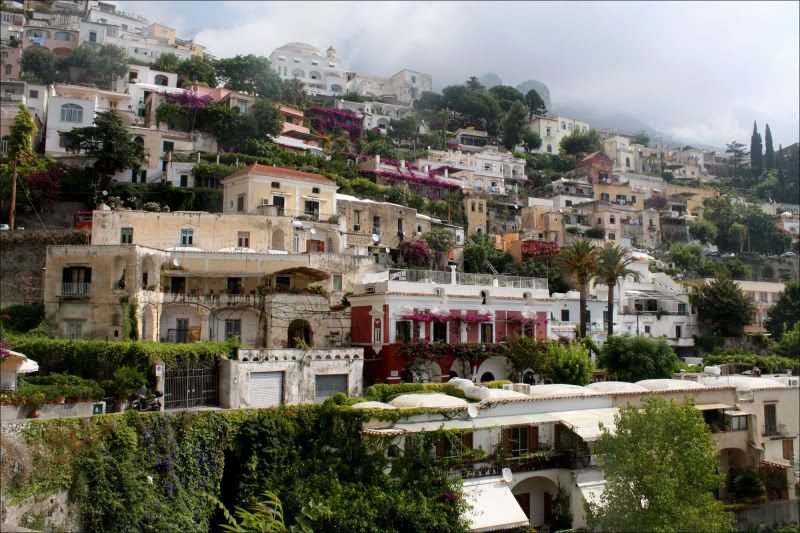 We took a bus from Positano to Sorrento, and a ghetto train from Sorrento to Napoli.  The train was packed and it was painfully apparent there was no sort of air-conditioning whatsoever.  It was filled with teenagers coming back from the beach.  They were super rowdy - yelling, banging, chanting, flirting.  A family behind us was obviously complaining about them and hit the windows when the teenagers finally got off.  Bad idea.  Several teenage boys walked over to the family's window and, Jess said, one of them spit at one of the women inside.  Then everyone really started banging on the train windows as we pulled out of the station.  Roughin' it…
So of course, what with the hoodlums on our train, it pulled into Napoli forty minutes late, making us miss the last train to Florence.  It was eight at night and the ticket machines said the next train was at four in the morning.  We ran into a few other girls that were in the same pickle.  After a long time of trying to figure out an alternative, we bought a ticket that left Napoli at 9:08 that night and got into Pisa at 3:25 a.m., and another ticket that left from Pisa at 4:15 a.m. and got into Florence at 5:27 a.m.  It was the train ride from hell.  Naples is a super sketchy place (a guy with cuts all over his arms and face asked us for money at the station) and the people on our train weren't much better.  The compartment on our train (yes, Harry Potter-style) was full of men who fortunately didn't make us feel uncomfortable.  Again, no air, and I'm surprised I even went to sleep for a few minutes it was so uncomfortable.
At Pisa Centrale, the station in Pisa, Jess grabbed a bench to nap on, while I tried to find some water since I was parched.  After three vending machines - one of which ate my euro, none of which would spit out the water I paid for - I wanted to cry and thought to myself, "I'm done with Italy!!!"  I want my fucking free water fountains!  Other things I miss, in order from least to greatest: customer service, free bathrooms, and air-conditioning.
Got into Florence on time for sunrise.